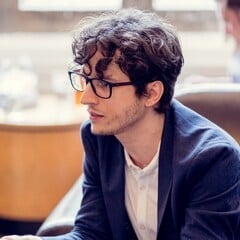 Thibault Girard
Senior Concept artist @Frontier
Edinburgh, United Kingdom
Summary
Hi everyone!
I'm a French concept artist and illustrator living in Scotland now.
I'm currently working in video games as a Senior Concept artist, illustrator at Frontier developments.
I love painting, playing with Blender and then mixing these two sometimes!
Still learning new tricks and skills and I always will.
I'm always open for new and interesting opportunities.
Contact : thibault.ky@gmail.com
Mobile : +33 767553633
Skills
Concept Art
Illustration
Character Design
Environment Design
Environment Modeling
Digital Sculpting
Character Modeling
3D Animation
2D Animation
Software proficiency
Experience
Senior Concept Artist at Frontier developments

Cambridge, Royaume-Uni

Working on Warhammer Age of Sigmar game.

Concept Artist, Illustrator at Amplitude Studios

Paris, France

At Amplitude I had to create a large variety of illustrations to accompany the players during their quests and progress in Endless space 2 (a 4X game). I also had to make concept arts for the playable and non-playable alien races (their spaceship fleets included). Using both digital painting and 3D rendering. I also did the latest 2D animations for the in-game ground battles.

Worked on Humankind character/avatar creations and events/techs/others illustrations for the main game and DLCs.

Concept artist, environment artist. at Futurlab

Hove

February 2015 - August 2018

I had a lot of tasks to complete at Futurlab. I was doing the concept arts (environment, character and mecha), making 2D sprites and 3D mechs and I had to animate these. I also did a lot of environment concepting and modelling following my own concept artworks. All that made me go from a very comic book art style to a cartoonish one and in the end to a semi-realistic one.

Writer/Illustrator at 3Dtotal

Brighton, United Kingdom

October 2016 - October 2016

2DArtist - issue 130 - Speedpainting tutorial.

Illustrator at Freelance

Paris, France

January 2013 - December 2015

Book cover illustrations. Marketing illustrations. Poster illustrations.